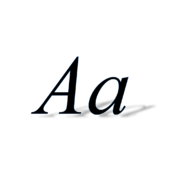 AnyFont images
What is AnyFont:
With AnyFont it is finally possible to install any additional font in TrueTypeFont- (.ttf) or OpenTypeFont- (.otf) format on your iPhone or iPad. These fonts can then be used throughout the system in other apps like Pages, Keynote or Numbers.
No more unexpectedly replaced fonts in presentations because the iPhone or iPad does not know it. The perfect solution for everybody who creates presentations on a Mac or PC to show them on their iPad.
Extremely easy to use. An extensive FAQ and an introductory tutorial help you to understand the app.
Download

AnyFont free for iPhone and iPad