Aperture Photography images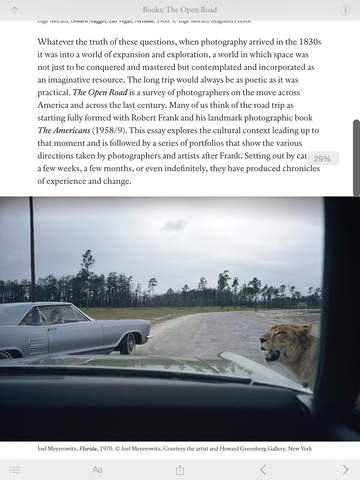 What is Aperture Photography:
Enliven your journey through the world of photography with Aperture Foundation's new app, a free publication delivered to your iPhone, iPod, or iPad twice a month. Aperture is a not-for-profit foundation, connecting the photo community and its audiences with the most inspiring work, the sharpest ideas, and with each other—in print, in person, and online. Download now to gain access to the photographers, publications, and latest happenings at one of the world's leading photography organizations, all in one accessible digest.
App Features:
• Free
• New content downloaded twice a month
• Interviews with photographers, editors, designers, curators, and writers
• Access to selections from Aperture magazine
• Exclusive, behind-the-scenes previews of books and exhibitions in the making
• Reports and reviews from the world of photography
• Portfolios from the world's leading and emerging photographers
• Curated picks from more than sixty years of Aperture magazine's archive
• Reviews of the latest photobooks
MAGAZINE
Find articles from current and upcoming issues of Aperture magazine, a quarterly guide to the world of contemporary photography that combines the finest writing with inspiring photographic portfolios. Relaunched in 2013, the new Aperture updates its mission as the world's most vital photography magazine in print
APERTURE BEAT
Get exclusive insights about what's going on behind the scenes at Aperture Foundation, from books and exhibitions in the making, to interviews and articles featuring the events, exhibitions, and photographers coming through our New York office.
BOOKS
Read exclusive excerpts from decades-worth of award-winning books published by Aperture Foundation. Find portfolios, interviews, and essays from inside the pages of the dozens of new Aperture books published each year.
ARCHIVE
Rediscover a selection of classic features curated from more than sixty years of Aperture magazine, in honor of this year's release of the Aperture Magazine Archive, a comprehensive digitized resource for subscribers.
REVIEWS
Hear about the latest exhibitions beyond Aperture Gallery, as our critics explore modern and contemporary photography shows around the world.
BOOK REVIEWS
Read reviews of the most innovative new photography books being released today, with insight from leading writers, artists, and curators.
Feedback? Suggestions? Technical issues? Please contact us at appissues@aperture.org
We'll do our best to assist you. Your feedback is important to us.
Download

Aperture Photography free for iPhone and iPad