Frosty PJ Party - Winter Dreams images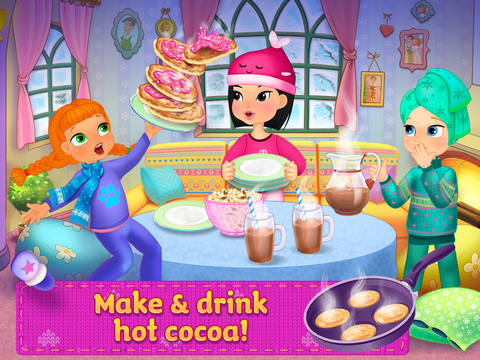 What is Frosty PJ Party - Winter Dreams:
> Snowflakes, slippers, and hot cocoa too! It's a Frosty PJ Party and we're inviting you!
> SNOWBALL FIGHT! Have a blast as you toss snowballs and pillows at your besties!
> Plan the winter party of your dreams! Decorate invitations, design your own winter PJs, make yummy pancakes, play Candy Hunt and so much more!
You're invited to the frostiest PJ party ever, full of fun and creative winter activities! Put on your favorite warm PJs and get ready for a night 2 fun 2 sleep! From girl talk to hilarious pranks to DIY arts and crafts, there's so much to do at this winter slumber party extravaganza! Don't forget to bring your cozy sleeping bag!
TONS of winter slumber party activities:
> Make delicious pancakes and hot cocoa for all your friends!
> Collect all sleepover activities in your winter party album!
> Decorate your invitation with adorable stickers!
> Personalize your invitation with your photo!
> Design your own pair of winter PJs and dress up warm for the party!
> Make the perfect pillow - cut, sew and stuff it!
> Play Candy Hunt! Search for candy in the dark!
> Choose from tons of colors to face paint your friends!
> Give your friends professional manicures!
ABOUT TabTale
With over 500 million downloads and growing, TabTale has established itself as the creator of pioneering virtual adventures that kids and parents love. We lovingly produce games, interactive e-books, and educational experiences for children.
Visit us: http://www.tabtale.com/
Like us: http://www.facebook.com/TabTale
Follow us:@Tabtale
Watch us: http://www.youtube.com/iTabtale
CONTACT US
Let us know what you think! Questions? Suggestions? Technical Support? Contact us 24/7 at WeCare@TabTale.com.
IMPORTANT MESSAGE FOR PARENTS:
* This App is free to play but certain in-game items may be purchased for real money. You may restrict in-app purchases by disabling them on your device.
* By downloading this App you agree to TabTale's Privacy Policy and Terms of Use at http://tabtale.com/privacy-policy/ and at http://tabtale.com/terms-of-use/.
Please consider that this App may include third parties services for limited legally permissible purposes.
| | |
| --- | --- |
| Requirements | Requires iOS 6.0 or later. Compatible with iPhone, iPad, and iPod touch. This app is optimized for iPhone 5. |
| Categories | Games, Entertainment, Role Playing, Family |
| Released | Mar 11, 2015 |
Download

Frosty PJ Party - Winter Dreams free for iPhone and iPad