Ulysses for iPad images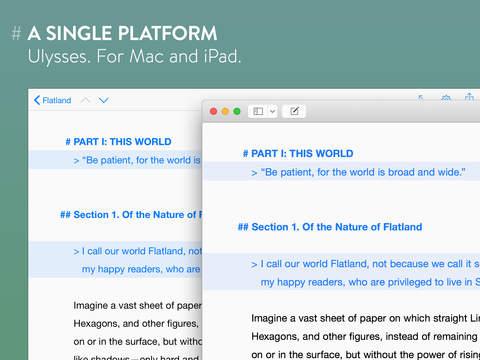 What is Ulysses for iPad:
Brand-new desktop-class writing for iPad! This is what our beta testers said:
"The app is amazing. An absolute delight to use. Well done." – David Hewson, Bestselling Author
"Steps up the argument for iPad being the best writing device. And to the level where it's hard to argue." – Ben Brooks, Blogger
"Seriously, looking great. Makes me want to write more on my iPad." – Brett Terpstra, Author and Developer
"It's awesome. Thanks for building it." – Noémie Six, Journalist
### DESKTOP-CLASS WRITING APP ###
Ulysses for iPad is your one-stop writing environment on iOS. Whether you're a novelist, a journalist, a student or a blogger – if you love to write and write a lot, Ulysses gives you a uniquely streamlined toolset, covering every phase of the writing process:
- A powerful, yet simple text editor.
- A familiar, no-nonsense text library.
- A comprehensive and truly flexible multi-format export.
Of course, the heart and soul of a writing app is its editor. And Ulysses is said to have the best text editor in the world. It offers everything you need – from markup to images and footnotes, from links to comments and code –, and it still manages to stay out of the way. It's a beautiful and focused experience, which turns writing on mobile into *actual fun*.
And since Ulysses takes writing seriously, it does not stop at the editor. Its unified library offers unprecedented access to everything you'll ever write, be it snippets and ideas, be it blog posts or manuscripts. Every text is at your fingertips, literally, and Ulysses perfectly scales from scratchpad to diary to Great American Novels – and to everything in-between.
Once you're finished, export is only a tap away. Ulysses can transform your text into beautiful PDFs, web pages, standard e-books and Rich Text documents. You can copy as HTML or save to the cloud as Markdown. Export is as easy as tapping a format, selecting a style, and chosing a destination. Yes, 1-2-3. No need to leave the app.
Best of all, Ulysses offers fully-fledged, no-holds-barred, all-out iCloud sync. Ulysses is available for both Mac and iPad, and every connected device has access to everything and anything you'll ever write. Synchronization is simple, seamless and neither requires third-party apps, nor any kind of interaction. If you got iCloud, you got sync.
### FEATURES ###
Write & Edit
- Markup-based text editor
- Simple markup for headlines, lists, comments, quotes, important passages and more
- Easy insertion of links, annotations, footnotes and images
- Multi-part button row for comfortable editing
- Swipe selection
- Option to attach keywords, notes and images
- Search & Replace
- Spell check, auto correction, dictionary, dictation
- Comprehensive text statistics
- Optimized for the use with external keyboards
File & Organize
- A single library for all texts
- Manual sorting of sheets and groups
- Groups, intelligent filters, favorites
- Full iCloud synchronization
- Editing of external text files
Export & Processing
- Export as PDF, RTF, TXT, Markdown, HTML and ePub
- Live preview, send as email
- Pre-selected styles for export
- Download more styles from the Ulysses Style Exchange
- Share files via Dropbox
User Interface & Navigation
- Clean, distraction free interface
- Three-paned layout (library, sheet list, editor)
- Easy swipe navigation
- Light and dark writing modes
- A wide choice color palettes
and so much more…
### SUPPORT ###
Please visit http://www.ulyssesapp.com for more information. You can also reach us via support@the-soulmen.com or on Twitter @ulyssesapp – we're happily awaiting your feedback!
| | |
| --- | --- |
| Requirements | Requires iOS 8.0 or later. Compatible with iPad. |
| Categories | Productivity, Lifestyle |
| Released | Mar 12, 2015 |
Download

Ulysses for iPad free for iPhone and iPad